_______________________________________________________________


What makes us so good?
Equal-i-zer® offers a unique two-in-one design that combines weight distribution with sway control in one easy to use unit. The simple design has
a built-in sway control to help minimize risk of sway problems caused by passing vehicles, cross winds, and other towing hazards. Equal-i-zer® is safe, simple, and easy to use.
Towing a trailer doesn't need to be a tense and fearful experience. It doesn't have to be difficult. It doesn't have to be filled with safety concerns and woes. The right hitch makes all the difference. It can turn a good trailer into a great trailer…and a great experience. Simply put—the Equal-i-zer® is the most affordable and best way to trailer.
The engineering behind the idea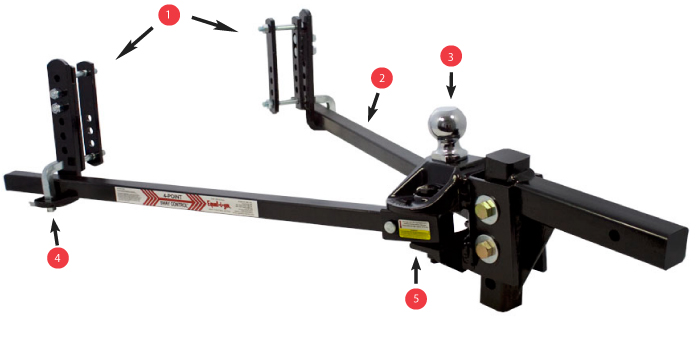 1. Sway Control Brackets:
Rigid trailer attachments work with friction sway control to combat trailer sway. Brackets are height adjustable to control the amount of weight distribution tension on the spring arms.
2. Spring Arms:
The spring arms serve two purposes. When raised onto the sway control brackets they transfer trailer tongue weight evenly to the tow vehicle. They also work with the friction sway control to reduce trailer sway.
3. Downward Pressure:
Downward pressure from trailer tongue increases friction sway control. Trailer hitch ball mounts here.
4. Upward Pressure:
Sway control brackets distribute weight by maintaining upward pressure on spring arms. The amount of pressure on the spring arms is a factor of trailer tongue weight and vehicle suspension. The friction sway control utilizes this pressure to control trailer sway.
5. Friction sway control:
Friction is enhanced by downward pressure from trailer tongue and upward pressure on spring arms. These opposing pressures come together to create an unequaled sway control system.
____________________________________________________________________________________
Load Leveler
Weight-Distributing system


A weight-distributing system applies leverage for heavier loads, 350 lbs. tongue weight or higher, to distribute trailer tongue weight to all tow vehicle and trailer wheels. It offers a more level ride, greater steering and brake control and enhances towing safety. The addition of a friction sway control also dampens sway caused by traffic and crosswinds and contributes positively to tow vehicle and trailer stability.
A Weight-Distributing system includes: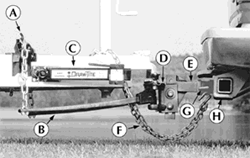 Hook-up bracket kits

Spring bars

Sway control (optional)

Head

Shank

Safety chains

Pin and clip

Receiver hitch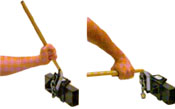 Hook-up brackets feature a rugged, positive locking design which is narrower than other hook-up brackets. They provide increased clearance on the frame for LP tanks and other attachments.
____________________________________________________________________________________

Draw-Tite Friction Sway Control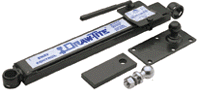 Maximum Rated Capacity: 3,500 lbs. GTW / 300 lbs. TW
Features:
Easy installation

No complicated adjustments or attachments

Friction adjustment for different towing situations

Easy to hook up and remove
For trailers exceeding 26 ft. use two Sway Control units